Here we are on a windy day on "the hill" posing with our beautiful Golden Retriever, Lacey.
When we say we are a family business we are not kidding! We not only get to work together every day but we also get to enjoy working with our daughter, our best friend, our dogs, and all of the feral cats we can neuter, spay, feed and tame. Occasionally, our son pitches in too!
Paul and I have been married for over 30 years and we have two fantastic children that have blessed us with four grandchildren. Our home is in Uxbridge where we are fortunate enough to own and love four horses, two mini donkeys, chickens, two dogs and two cats. What do we love besides each other, our home and our family? Well, vacations are nice!!
Crystal (our daughter) has been working part time for so long that I am not sure when she officially started. She works at everything and anything from bookkeeping, computers, assisting customers, cleaning, running errands and just being available for whatever we need. She recently moved to Douglas with her husband and two great kids, Kayla and Niko. She has a Jack Russell named PeeWee and two cats, Baby and Spots!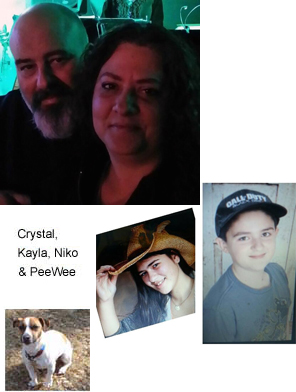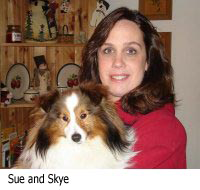 Sue has been with us for over 20 years! Her sweet personality and genuine concern for everyone makes her a perfect fit to our family. Her Sheltie, Skye, is the smallest Sheltie with the prettiest face. Skye comes to work with Sue and naps most of the day because she has to work hard every morning herding horses out of the barn! Sue has a pretty senior quarter horse named Tawny, three cats Wilson, Molly and Oreo. If she had room in her house, she'd probably own a pig too!
Cowboy Dan came to work at The Mane Place in 2011 and is a welcome addition to our Mane Place family! He cheerily loads cars and trucks with all of the heavy stuff that us girls would rather not handle and when he's not doing that he is our resident handyman. Dan also is a proud father of five daughters and owns three horses!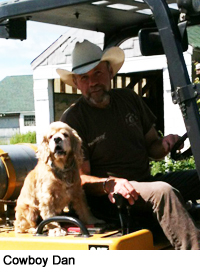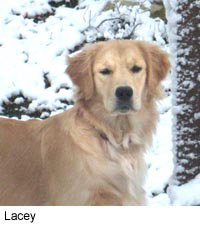 Lacey, our beautiful Golden Retriever is our new official greeter since 2009. She is extremely excited to meet children and any customer that will play with her. Lacey is a very sweet girl that we take wherever we go. Thanks to Lazydaze Goldens in Upton for putting this precious gift into my arms when I needed her most.

This handsome Labrador Retriever also started his life at LazyDaze. He was born is August 2010 so you will find him quite animated when you visit The Mane Place. He has a playful wiggle, a language all his own, and big brown eyes that usually gets him whatever he wants!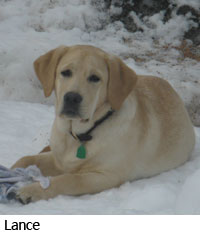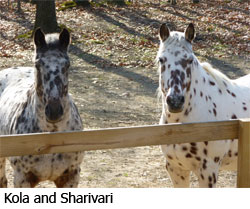 Kola and Sharivari: I call these ladies the "Spotted Wonders"! We brought these cousins home when they were just yearlings. They were trained with natural horsemanship programs and can be ridden bitless. However, they do challenge us on a regular basis. I just can't help myself - I have a spot in my heart for Appies!
I call these miniature donkeys the little men! Dusty has the brown nose and Eeyore the white nose. They have been together most of their lives and shadow each other all day long. Their antics include tug of war with dog toys and feed dishes. They are entertaining and quite lovable. We video them often and smile – smile – smile!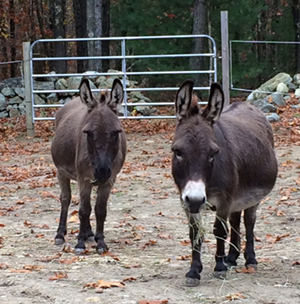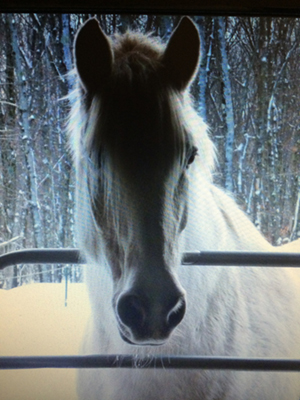 This handsome giant was adopted from the MSPCA. He is as gentle as he is large! Max weighs in at 1500 pounds and turns heads wherever we go with his flowing mane and tail. Actually he has a presence about him that is majestic!
He is a very special addition to our equine family.
Jase is Paul's quarter horse. He has a super personality besides good looks. This gelding is a cutting horse so cows are not strangers to him. Paul and Jase enjoy trail rides, versatility courses and ranch sorting. Tuk-A-Wile Farm got lucky when this boy joined our family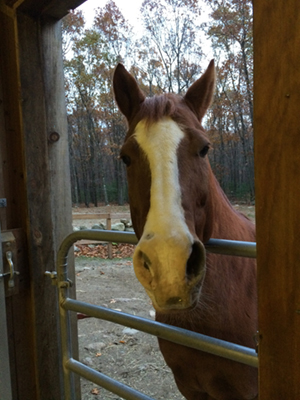 The StoreCats! These three felines have made The Mane Place their home! They spend most of their nights in the grain room guarding the feed from rodents. Windy takes it a step further and brings them in dead for us. She is an expert hunter while Big Red is an expert eater. Scruffy is just that and as he becomes more and more sure of us we will tend to his tresses. We have two more regulars that eat under the drop trailer we call Jade and Sprint. From time to time others come back to visit like Fluff Gray or Barney. They are all neutered or spayed thanks to the efforts of BV Cats and their program.
Lt. Dan: Our store bunny has been with us for over 5 years! Customers look for him and children love to pat him. This two footed lion-head gets his share of attention.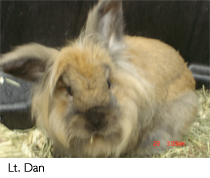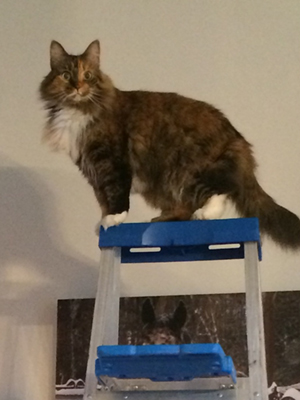 Belle was a baby when we found her at the farm in Blackstone 15 years ago. She is a lap cat and is always trying to get Lacey and Lance to cuddle with her. Gypsy was abandoned near The Mane Place in 2013. She is not only beautiful but a wrap around your neck kind of cat. She can be found or not be found when she hides in any drawer, cabinet, closet or box. We're so glad that we have her to love!
Bo. We lost Bo to heart disease on February 19th of 2009. He was our one of a kind Golden boy and we miss him more than words can even say. Bo humored us with his many costumes and his lovable smile. He greeted The Mane Place customers for years and he warmed our hearts daily.