Family owned, relaxed home-town atmosphere, smiling faces, and wagging tails make The Mane Place a great place to shop!
We (Paul and Linda) started the shop in October of 1988 with just a couple of saddles and a handful of boots. Linda ran it full time while Paul continued to work for Garelick Farms.
The business grew from 700 sq ft to 3400 sq ft in just seven years. The Mane Place was approaching its 20th year in business when the Bernat Mill (the location from 1995 to 2007) burned to the ground. With the support of family and customers (our customers are like family) we reopened The Mane Place at Bangma's Farm in November of 2007. This unique space offered us a new opportunity and we took on Poulin grain for all kinds of animals which was followed up with hay and shavings.
The Mane Place still offers English and Western tack and apparel, horse supplies, gifts and jewelry. Our latest addition is high quality dog and cat food and supplies!
We are very happy to be back in business! We are the same group of people that you have come to know over past years. Our special connections with so many of you make it our pleasure to open the doors six days a week.
Visit Our Family page and meet all of us and our four legged companions!
The pictures above and below are of the new store!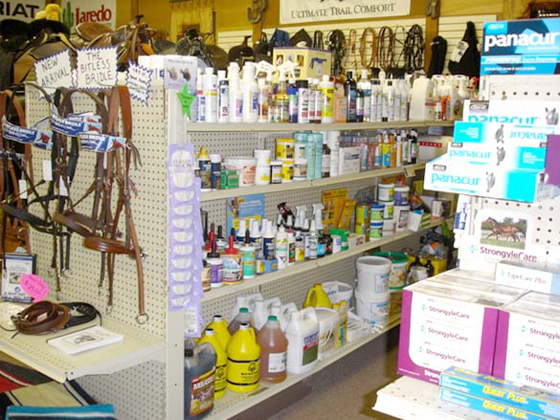 We Deliver